 Dataiku 12: Keep AI Under Control
Do More With Generative AI
Using OpenAI GPT and ChatGPT APIs
There's no denying the transformative power of generative AI models like OpenAI GPT, but how can you harness the power of this new technology for data projects while ensuring visibility and transparency for builders, users, and executives?
Now you can allow business users to incorporate OpenAI GPT models by extending datasets and performing tasks using a visual interface and natural language prompts, all while maintaining transparency and trust in project outputs.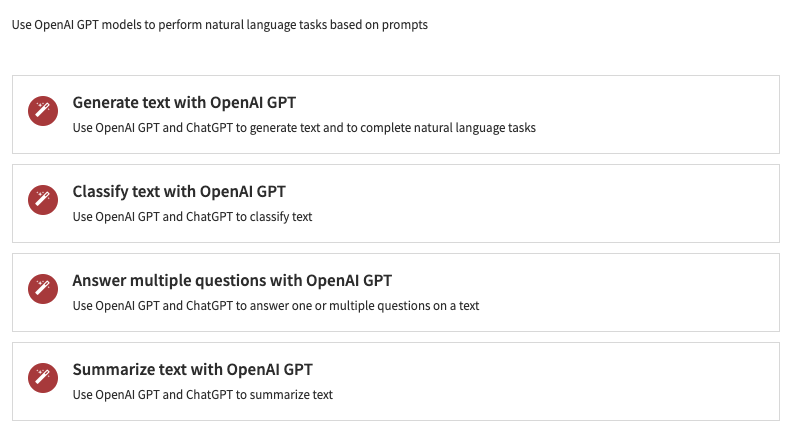 Automatically Generated Features
From Existing Datasets for Greater Speed
Whether using code or visual tools, it can be time consuming and error-prone to painstakingly construct dozens or even hundreds of features for machine learning. Auto feature generation in Dataiku provides a simple, repeatable way to create new features to improve efficiency and model performance.
Universal Feature Importance
Understand Features' Impact for Better Model Explainability
Determining how models arrived at their predictions can be challenging — especially when comparing different algorithms, each of which has its own interpretability methods.
With Dataiku's Shapley-based visualizations for feature importance, you can quickly understand and compare the influence of individual features on predicted outcomes for all types of models, even those developed outside Dataiku's visual ML framework.
Improve Outcomes With Uplift Modeling
Measure Cause and Effect Relationships for Better Decisions
Although what-if analysis can provide fast answers about a model's prediction under changing conditions, it's risky to make a causal assumption from these simulations.

Uplift modeling, a causal ML use case, helps you to quantify cause and effect relationships by modeling the differences between outcomes with and without controllable actions — or "treatments" — applied, so you can identify the segments in your population that are most likely to respond favorably to a given action.
Go Deeper With Dataiku
Find the Answers You Need, at the Moment You Need Them
It's common to draw from multiple sources to gain knowledge and understanding of how Dataiku works, find inspiration and guidance for implementation, and get technical support for specific questions or issues.

The embedded help center in Dataiku centralizes a wide variety of useful resources for both technical support and educational purposes. With contextual, personalized content recommendations, the help center presents useful information at the exact moment you need it, without leaving the project.
A Dedicated Data Catalog
Easily Discover and Browse Data for AI Projects
Finding and accessing the right data — and tracking down the owners of the data — for analytics or prediction projects can be a frustrating and time-consuming process.

Dataiku's redesigned data catalog provides an easy way to access all of your organization's data in one place. With custom data collections and data steward assignments, it's easier than ever to publish, share, and discover high-quality datasets to incorporate into your Dataiku projects.
Reduce Risk With Model Overrides
Ensure Safe Predictions by Applying Model Guardrails
As models become prevalent across business & safety-critical applications, the potential risk rises from harmful or expensive errors.

Model overrides in Dataiku enable a human layer of control over model predictions, allowing teams to describe expected outcomes under specified conditions and enforce compliance when predictions do not meet expectations.
Go Further
See Dataiku 12 Features in Detail
Go deeper into key features
Explore Now