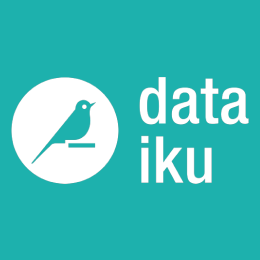 Dataiku DSS 8
Putting the Power of AI in the Hands of Everyone
Dataiku Applications
Driving Intelligence Across the Organization
Dataiku applications empower organizations to drive intelligence in every corner of the business for better business decision-making from regular to revolutionary.
The power of AI at the fingertips of teams provides unlimited opportunity from marketing optimizing campaigns, finance detecting fraud faster, customer support response time dropping for reduced churn, etc.
Dataiku Application: Designer
Build Highly Scalable AI Apps in Minutes
Data experts can easily design and package Dataiku projects as reusable apps with the code optional designer interface.
Every application instance is isolated, eliminating the risk of failure and conflict with concurrent users. Scaling out is also made effortless with the option to use any backend including Kubernetes.
Dataiku Application: Catalog
Reuse Internal Intelligence for Future Projects
Over time, decision-makers across the business can leverage this self-service catalog of applications to set parameters for their specific needs and get results to make better decisions faster.
A centralized 'AI app store' covering a broad spectrum of use cases will help organizations drive meaningful AI adoption across business units and teams.
Model Document Generator
Transparent, Explainable AI
The introduction of automated model documentation eliminates hours of work for data scientists and provides a standardized way to provide transparent, explainable AI to the business.
Model audits are simple with detailed information about the methodology, experiment results, selected model results, and deployment, all generated with a click and updated with each version.
Flow Zones
Collaborate on Large, Complex Flows
Flow Zones enable the partitioning of a Dataiku flow into cleaner, simpler flows for better readability and navigation.
Global Tag Categories
Easily Organize Large Flows
Discoverability and smooth collaboration are often challenging when working with complex flows.
Utilize global tag categories to standardize nomenclature when working on large, complex projects. The tags are set at a global level and apply across the entire instance.
ML-Assisted Labeling
Quickly & Intelligently Label Your Data
Labeling data can be time-consuming and expensive. Dataiku's intelligent labeling webapps saves time and resources for teams trying to accelerate the labeling process, enabling them to focus on annotations that are most useful to improve the accuracy of the machine learning model.
This release includes image object detection labeling with bounding boxes, Parallel multi-user labeling,  and more.
Apps-as-Recipes
Reuse Pre-Built Flows
Get a head start on new projects when working with frequent or generic use cases by packaging a Dataiku flow into a reusable recipe.
Data teams with advanced flexibility needs can leverage Apps-as-recipes for improved modularity.
AutoML UX Improvements
A Faster, Smoother Experience
Quickly uncover predictive insights with fewer clicks and easier navigation.
Not Using Dataiku Yet?
Dataiku Free Edition provides unlimited data processing and up to 3 users.
Install Now