 Dataiku for Financial Services
It's Only Data Until You Drive the Future of Financial Services
It's Only Data Until You Unlock Tangible Business Value
Enterprise Analytics Are the Key to Data-Driven Success
Data is the beating heart of financial services and all players share a common need — tap into the trove of data they have available to transform their processes and drive business value. But it's a race: to improve risk management, enhance customer advisory and experience, achieve actionable ESG integrations, and foster end-to-end operational excellence. You don't have to win the race, but you certainly can't afford to come in last place.
This change needs to start with empowering all business professionals as active collaborators and contributors to this data-driven transformation, paving the way to robust, embedded data science, enterprise-grade analytics, and business-relevant AI.
Through powerful, AI-enabled solutions, we're here to help you turn data from the cost center it is today into a source of efficiency and revenue from new, data-driven client experiences.
With All Your Data Accessible in One Place, Seamlessly Navigate Fragmented Data Setups
Conquer the Data Essentials (Access, Wrangling, Connecting) With Ease
Navigating all your data sources to build relevant insights — on each customer, overall liquidity, credit risks, or industry exposures — through fragmented information systems and ever-changing storage technologies remains an everyday challenge.
No matter the business, fundamentals like cleaning, wrangling, and connecting to a myriad of new and legacy data sources is consistently a top challenge. Dataiku helps you leverage and make sense of those sources (i.e., structured, unstructured, alternative, legacy) via simple and flexible data access and timely blending across sources — all while guaranteeing enterprise-grade risk management standards and supporting regulatory compliance through full auditability.
We Help You Embrace the Complexity of Your Analytics Needs
From Scaling Fully-Fledged Use Cases to Empowering Business Teams
Out with manual processes, in with a future-proof data science and AI platform that was built to make AI commonplace. Designed to help you reach business value faster, Dataiku offers pre-packaged use cases (including news sentiment stock alerts, alert tiering for anti-money laundering triage, interactive document intelligence for ESG insights, and credit card fraud detection) that will change the game for your business.
Enabling Everyone, From Quants to Business Leaders to Compliance Officers
Build on the Foundations You Already Have
Embarking on data science and AI initiatives is intimidating, but the good news is you've been laying the foundations of successful projects for years or decades. Quants, algorithmic traders, risk analysts, fraud analysts, pricing teams, actuaries, finance teams, and many more — these individuals and teams form the foundation of a robust, inclusive strategy.
Dataiku is designed to help financial firms build upon this pre-existing framework. Leverage the business knowledge and data expertise of your existing staff and engage diverse talent across different facets of the organization directly with your data processes. Whether you're technical and work in code or on the business side and low- or no-code, you'll be able to find common ground for project collaboration and knowledge sharing in Dataiku's centralized platform.
Move Out of Spreadsheets With Modernized, Agile Analytics
Unlock New Levels of Efficiency and Drive Impact
From massive efficiency gains and operationalization benefits to significant reductions of end user computing risk, you have the potential to drastically transform your business with data science and AI initiatives — and Dataiku enables that transformation with speed and at scale, achieving enterprise-grade analytics without sacrificing agility and adaptability.
Hassle-Free Governance and Auditability
Staying Within Regulatory Standards Has Never Been Easier
Financial service firms must prioritize transparency, reproducibility, and governance. With data privacy and model governance laws being implemented and updated around the world, the uncertainty can be costly.
With Dataiku, you strike the balance between agility and robustness: all your data pipelines and models are quickly built in an environment that offers top-tier explainability and auditability principles, ensuring compliance with model regulation and Responsible AI needs. Dataiku provides custom policy capabilities to document personal data, configure project-level forbidden actions, and generate trusted reporting to meet GDPR, CCPA, and other regulatory obligations.
It's Much More Than Just Modernizing Legacy Systems and Processes
Dataiku: For Today and  Tomorrow
You don't want to be locked into a system that is slow to innovate and lacks the proper security controls or features the business will need down the line because you chose the wrong vendor. Dataiku is technology- and profile-agnostic and enables you to embark on an Everyday AI trajectory because it:
Embraces the full scope of data projects, from data pipeline building and industrialization to advanced machine learning and other AI applications.
Offers all teams an opportunity to reinforce their impact and efficiency: business experts can tackle their everyday data connection and analytics needs, data scientists can streamline model time-to-market with an end-to-end environment, and risk managers can streamline model review.
Accelerates operationalization and oversight of all types of data projects — with full control by IT teams.
Ensures eased compliance with current and future regulatory requirements through advanced governance, explainability, and fairness features.
Elevate Your Company's AI Capabilities
Like These Industry Leaders Have
From multinational banks and insurance companies to wealth and asset management firms, many top financial services organizations (including 12 of the largest worldwide*) use Dataiku across their teams to propel their data science and AI initiatives forward.
Dataiku is praised by industry experts for its ease of use and delivery capabilities. Success in financial services is about standing out in a market where customers have numerous choices to meet their financial needs, and we want to be a building block to that success.
*source: Forbes 2000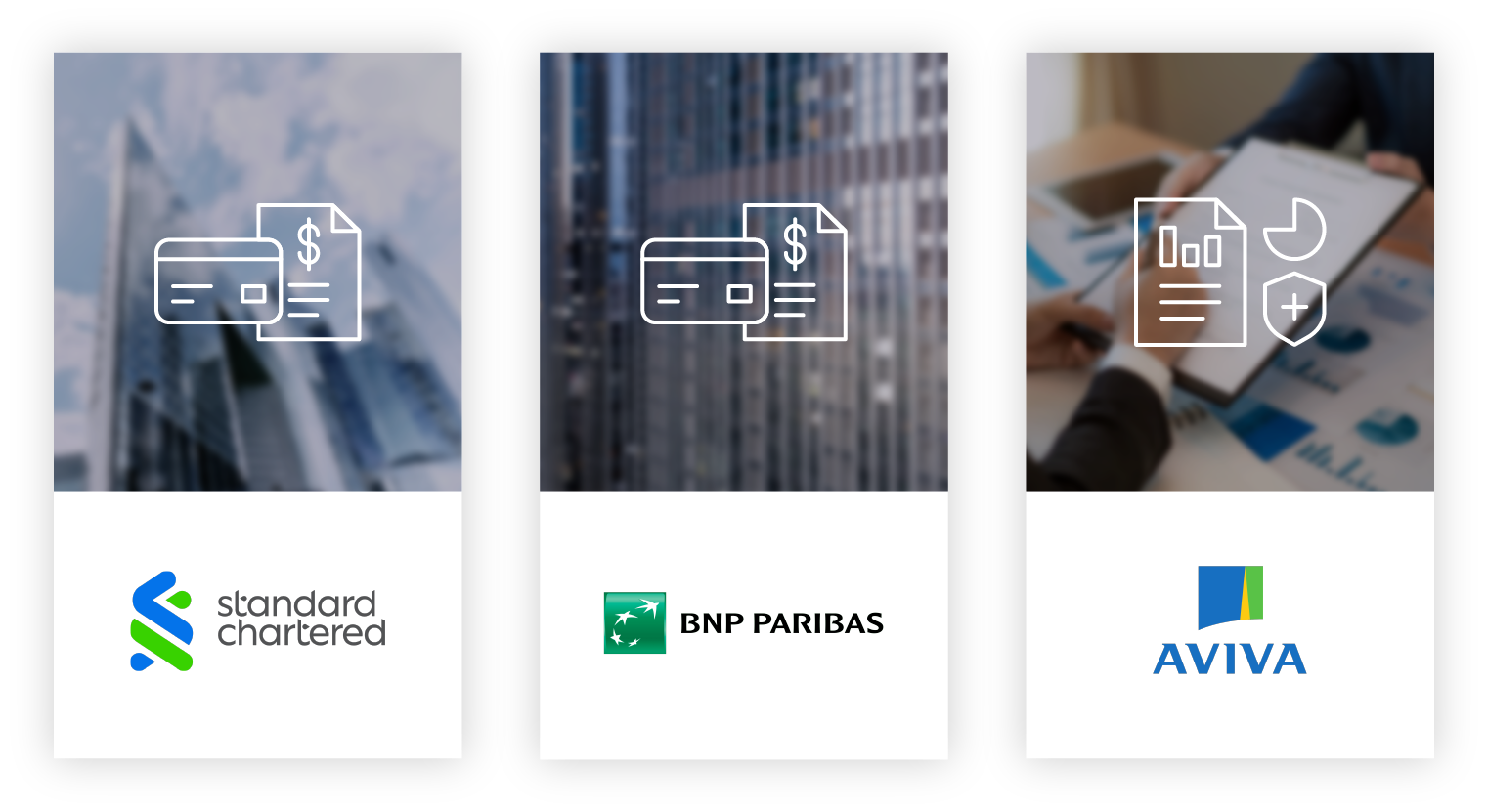 Get Started
Banking Industry Deep Dive
Discover Our Ready-to-Use Industry Solutions
Learn More
Morgan Stanley's Formula for Success: AI + Human Intuition
Watch a Customer Story
Watch Now