 Dataiku for the Manufacturing Industry
Transform All Manufacturing Processes With Data & AI
It's Only Data Until You Make Production More Efficient
AI Is the Key to Unparalleled Innovation in Manufacturing
Applying data science, machine learning, and AI to augment all aspects of the manufacturing process (from process optimization to production to supply chain logistics) will help you streamline decision making throughout the organization, reduce disruptions, become more sustainable and, ultimately, maximize profit, quality, and service.
There's very clearly untapped potential for manufacturers to embrace, so we're here to help accelerate your company's AI maturity and move from initial use cases to organizational transformation.
Manufacturing Data Is Complex and Varied
Manipulate It All (From IoT to Sensor Data) in One, Collaborative Environment
Manufacturing plants are inundated with a myriad of data sources (sensors, machine logs, equipment usage, and historical production data, for example). But there's a disparity between having that data and having the capabilities to act upon the data to make a more sophisticated manufacturing plant.
Dataiku helps you combine large volumes of structured and unstructured data coming in from several systems and locations and ensures you can seamlessly connect to every source. Then, the data can be analyzed to identify patterns and, ultimately, produce results precise enough for the modern enterprise (i.e., reduced testing and delivery time).
Improve Processes in Hours, Not Months
Save Time With Ready-to-Use Use Cases
It's widely accepted that an average factory loses about 5% of productivity due to machine downtime, with some losing up to 20%. But it's not just productivity — without working machines, companies can't meet production requirements or deliver on their commitments.
This is just one of the many challenges manufacturing companies have to tackle. To help you reach business value faster, Dataiku offers pre-packaged use cases (i.e., predictive maintenance, anomaly detection for production, energy and CO2 management) that will change the game for your business.
Enabling Everyone, From Operators to Process Engineers
All Staff (Regardless of Technical Capacity) Have an Active Role to Play
When looking for a data and AI platform, you should ensure that it's inclusive in nature so that all staff (from all backgrounds and with varying technical capacities) can leverage data and AI. Teams will then be able to improve their day-to-day activities and reach your company's long-term goals.
Luckily, Dataiku provides access to data in one single environment across IT, data scientists, analysts, engineers, machine operators, plant managers, and more. Whether you're technical and working in code or on the business side and low- or no-code, you'll be able to find common ground for project collaboration and knowledge sharing in Dataiku's centralized platform.
AI: The Driving Force Behind Industry 4.0
Unlock New Levels of Efficiency and Drive Impact
Leverage data from all of your available sources — production equipment, smart sensors, enterprise and customer management systems — and simplify communications between your IoT devices to achieve massive efficiency gains and more sustainable industrial operations. The bottom line is that you have the potential to drastically transform your business with AI initiatives — and Dataiku enables that transformation with speed and at scale.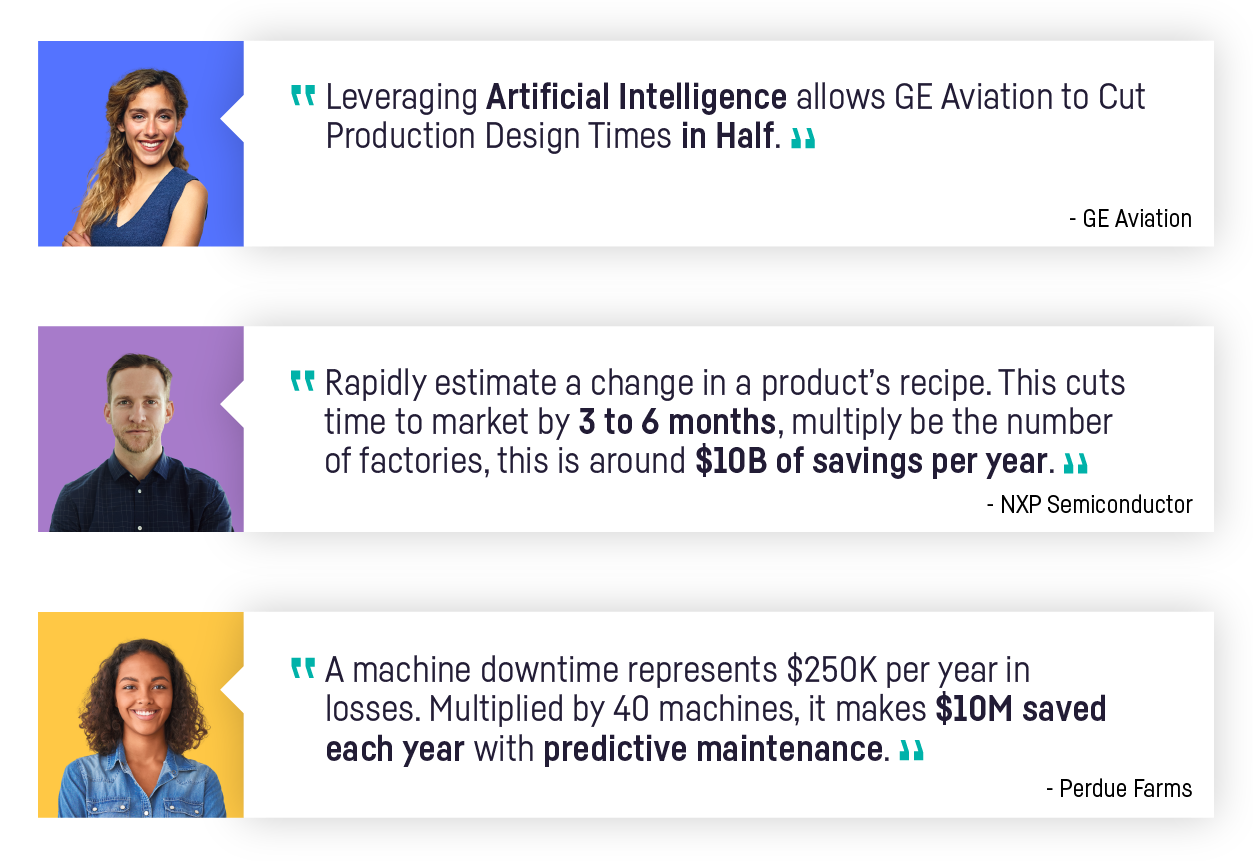 Avoid Data Security Missteps
With the IoT, Enterprise-Grade Data Security Matters More Than Ever
Data security is a key risk for any manufacturing company that handles potentially sensitive data related to its manufacturing production lines, customers, employees, or business partners. However, with emerging technologies and the rapidly expanding Internet of Things (which will create exponentially more data), how your company uses, stores, or shares data is more critical than ever before.
Dataiku provides custom governance and security capabilities to configure project-level forbidden actions and robust user permission tracking, ensuring that only authorized users can access sensitive information.
Drive Results With Speed and at Scale
Dataiku: For Today and  Tomorrow
The advancement of smart sensors combined with the rapid evolution of data science and machine learning techniques and technologies offer a massive amount of potential for you to embrace — whether you're looking for insights into your production processes, reduced maintenance costs, data visualizations for better decision making, or real-time analysis to improve manufacturing processes. Dataiku enables manufacturing organizations like yours to drive impact because it:
Dataiku isn't built for one specific use case, but rather is built to be leveraged for everything from simple to the most complex projects and pipelines
Upskills business teams and empowers IT to manage production to free data scientists to pursue significant initiatives
Provides the infrastructure for organizations to govern AI projects at scale, including production lifecycle management (monitoring, retraining, and testing)
Manages risk long term including operational best practices to ensure legal and regulatory compliance
Don't Take Our Word For It:
These Leading Manufacturers Trust Dataiku
Top manufacturing-exclusive organizations and companies with a manufacturing arm use Dataiku across their teams to propel their data science and AI initiatives forward. Dataiku is praised by industry experts for its ease of use and delivery capabilities. At the end of the day, success in manufacturing is all about improved quality, service, and profits and we want to be a building block to that success.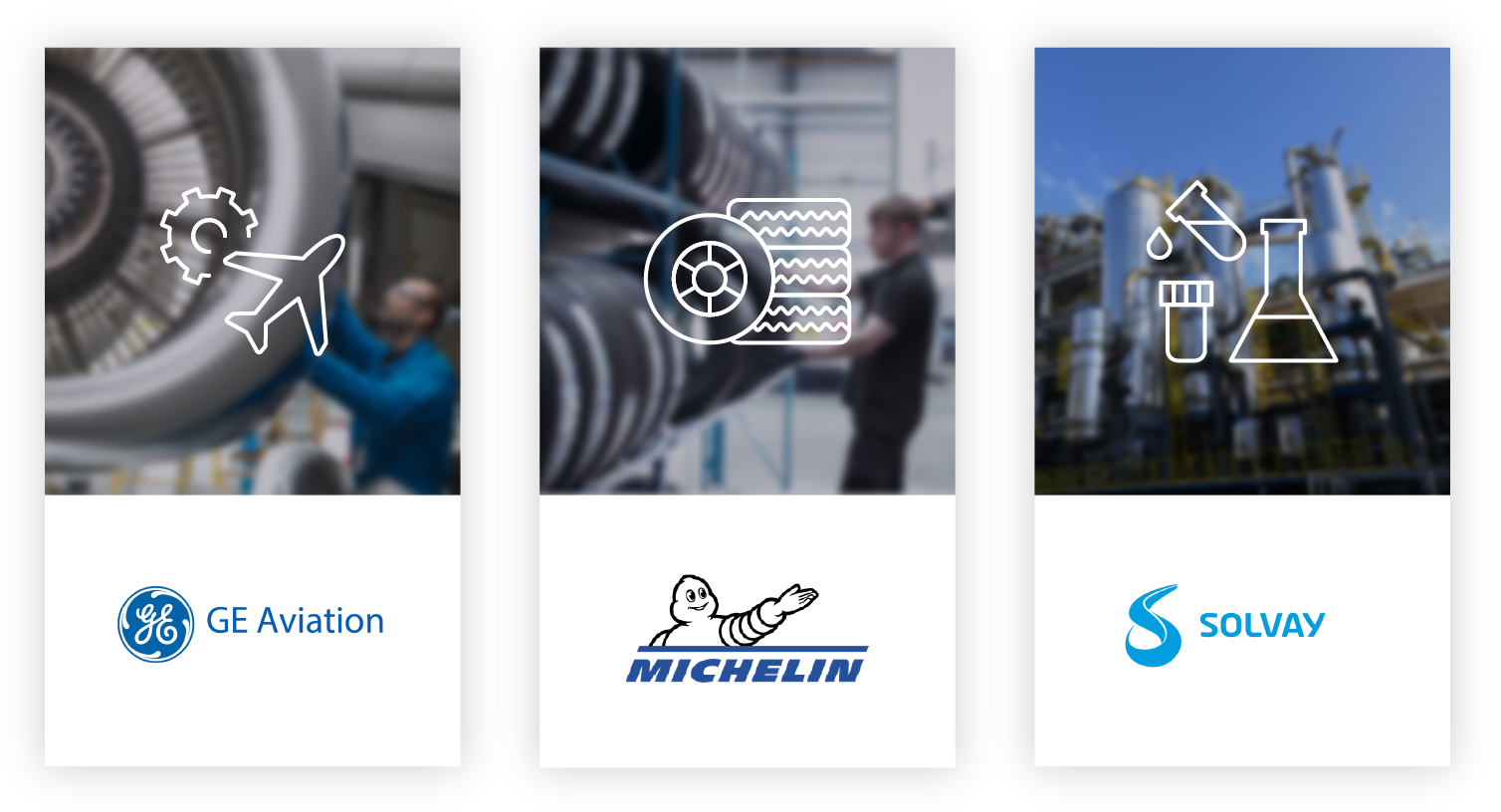 Get Started
Manufacturing Industry Deep Dive
Discover Our Ready-to-Use Industry Solutions
Learn More
From Silos to Self-Service: Data Transformation at GE Aviation
Watch a Customer Story
Watch Now