 Dataiku for Marketing Leaders
Get More Done With Less Using Analytics & AI
Increase Marketing ROI
While Empowering Your Marketing Analytics Team
Dataiku is an analytics and AI platform that enables your team to take on advanced analytics and leverage the data you own for truly actionable impact.
Using pre-packaged solutions, visual tools, and accelerators, you can quickly create value — all while gaining visibility and measurement into projects and providing guardrails across your team to maintain trust.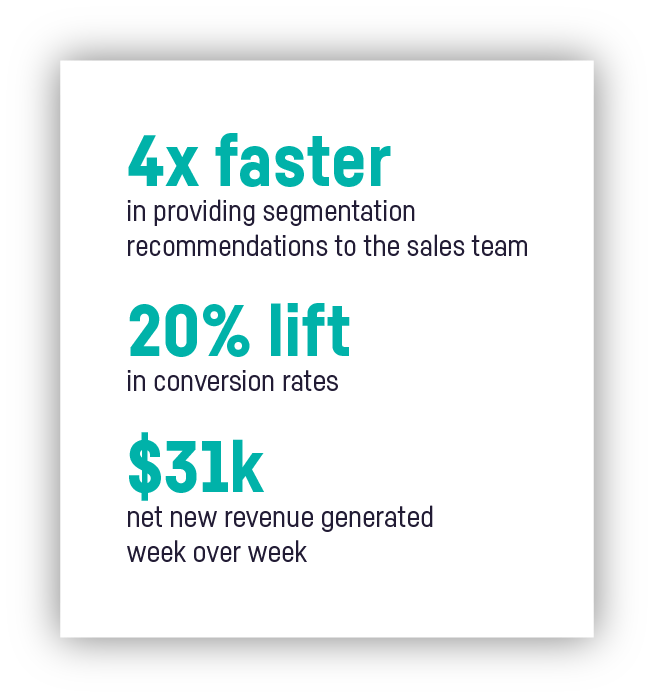 Connect Teams in a Shared Analytics Space
Improve Collaboration and Get Insights Faster
The journey from data to insights can be a bumpy one, and projects are often slowed down when relying on other teams or outside agencies.
Dataiku provides a collaborative, centralized environment where people with varying levels of technical comfort can seamlessly contribute their expertise to analytics and AI projects using a no-, low-, or all code approach. A visual flow automatically captures each action taken along the data pipeline, reducing miscommunication and speeding up the process.
Quickly Access and Aggregate Data
For a Complete View of Customer Behavior
Dataiku features 40+ native data connectors including cloud databases, business applications, flat files, on-premises warehouses, and everything in between. Regardless of size, shape, or location, you can access it in one place.

You can also connect to the most common CRM, campaign management, analytics, and POS tools — such as Google BigQuery, Salesforce, Tableau, Stripe, Hubspot, and Linkedin Marketing — using pre-built plugins.
Bring Generative AI to Life
Scale Personalized Messaging and Efficiency
Most marketing teams today are already using chat-based Generative AI tools on an ad hoc basis. With Dataiku, you can accelerate beyond individual efficiency and create personalization at scale.
Dataiku brings enterprise-grade development tools, pre-built use cases, and AI-powered assistants throughout the platform so that your team can make the most out of everything Generative AI has to offer.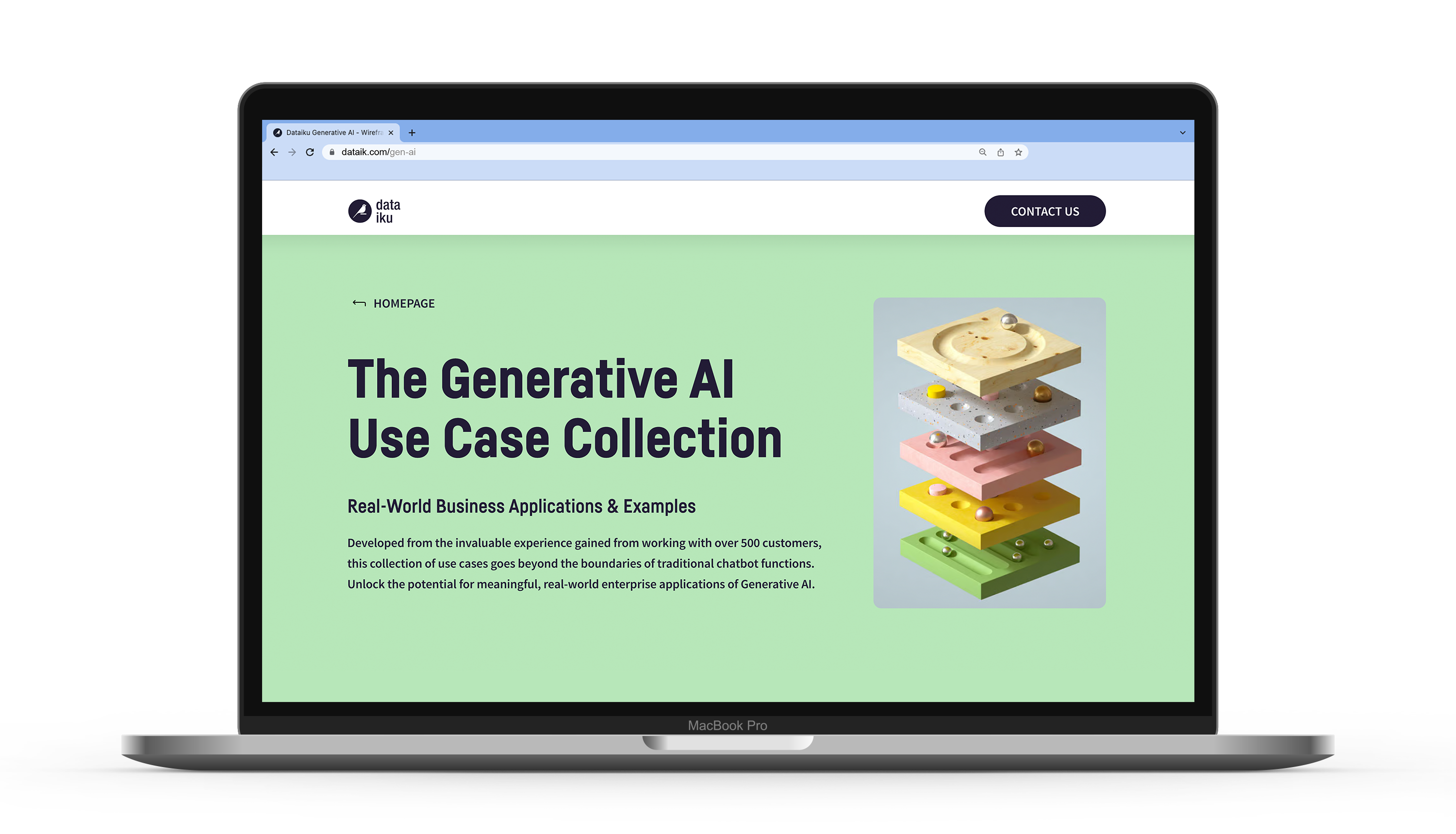 Quickly Implement AI Use Cases
With Pre-Packaged Marketing Accelerators
While marketing analytics teams often know which advanced analytics and AI use cases they want to tackle, actually implementing them can seem out of reach.
Dataiku features pre-packaged marketing accelerators that are configurable to work with your data and fit your unique needs. These include market basket analysis, customer churn reduction, omnichannel marketing, customer segmentation, RFM segmentation, customer satisfaction reviews, RFM-enriched customer lifetime value, and more.
Automate Repetitive Data Tasks
Reduce Time Spent Manually Consolidating Records
Often teams spend many hours cleaning up and joining records from different data sources prior to usage in analytics or AI projects. With Dataiku, you can automate recurring data tasks and get proactively alerted when issues arise.
Automate recurring tasks such as pulling data on a set schedule from a database, completing recurring data cleansing and transformation activities, or pushing reports to stakeholders.
Customizable checks monitor for potential anomalies and alert teams about status or emerging issues via email or messaging apps like Microsoft Teams and Slack.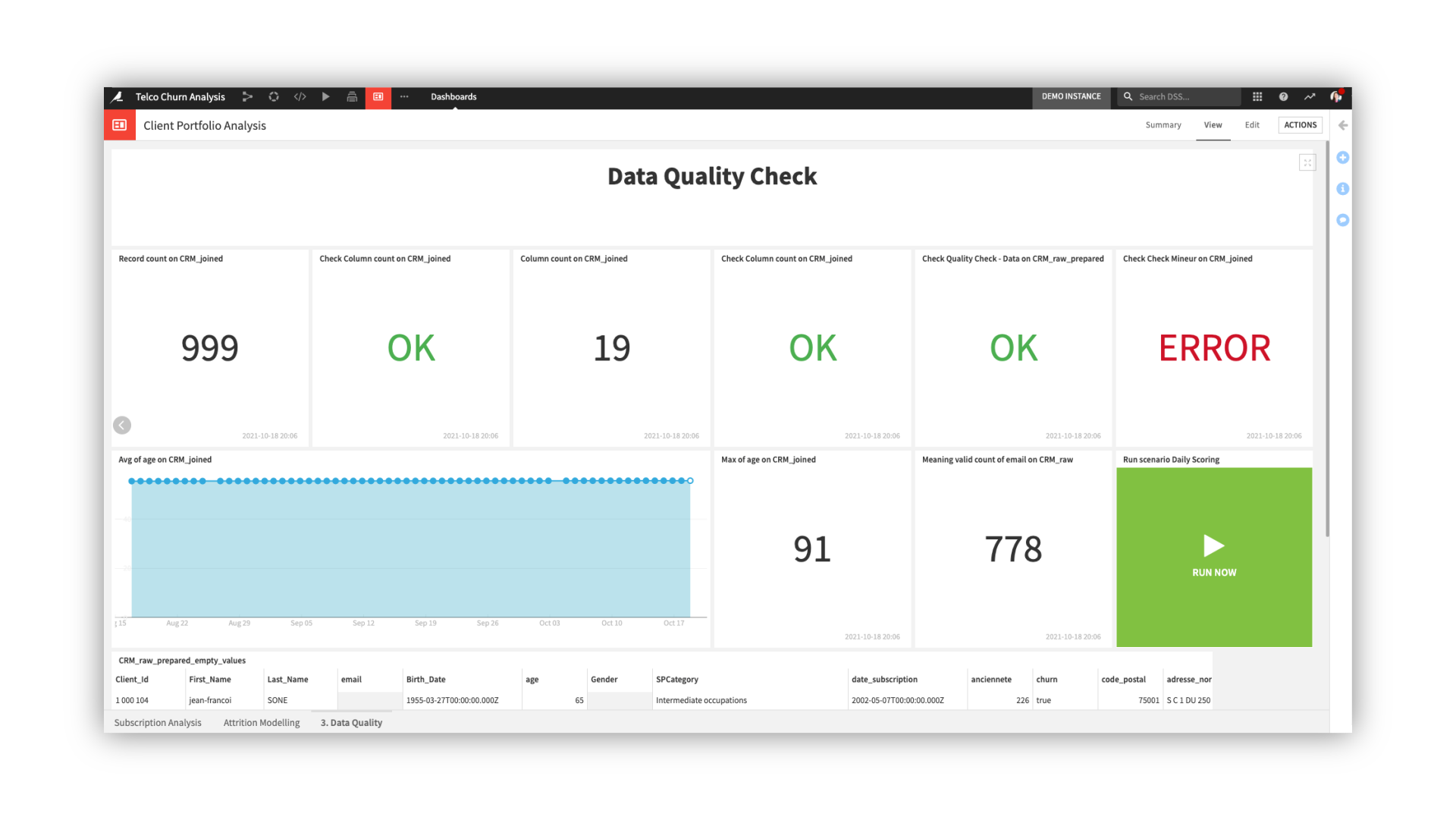 Self-Service Analytics
Easily Share Insights However You Prefer
Empower stakeholders to find their own answers with self-service applications, freeing your team to focus on experimentation and strategic initiatives. Dataiku makes it easy to deliver interactive reports with a number of available options based on what works best for your team.
Visualizations can be created within Dataiku and shared via comprehensive dashboards with stakeholders.
Dataiku natively integrates with the most common BI tools like Tableau and Power BI if you prefer to push insights outside of the platform — the choice is up to you.
Quickly create no-code applications that stakeholders can query for common marketing questions.
Built-In Governance
To Comply With Data Privacy Regulations
With the amount of customer data available and all the systems and vendors in the process, everyone is concerned about data privacy.
Dataiku can help you strike the balance between being bold and being regulated. All your data pipelines and models are built in an environment that offers top-tier explainability and auditability principles, ensuring compliance with model regulation and Responsible AI needs.
Dataiku for Marketing Leaders
Don't Take Our Word for It
Here's what a few Dataiku users across more than 500 companies worldwide have to say.
Get Started
MandM Direct Success Story
Read the Story
Learn More
Dataiku for Analytics Leaders
Discover Dataiku
Explore Now