 Dataiku for the Pharmaceutical Industry
Improve Patient Outcomes With Analytics and AI
It's Only Data Until You Enable Care for More People
AI Is the Key to Rapid Progress
The global health crisis has underscored the need for organizations to be able to pivot their operations to effectively cope with major health challenges, while simultaneously driving innovation. This is especially relevant for you (and pharmaceutical players around the globe) as you navigate concerns such as supply chain disruptions, increased time-to-market for new drugs, and precision medicine in the real world.
From medical information collection and processing to drug discovery, R&D, clinical operations, and marketing optimization, we're here to help you drive business impact across the pharmaceutical value chain via AI-enabled processes. Plus, we'll help you do so in a way that is collaborative, transparent, and explainable — a proven formula for increasing efficiencies and improving patient outcomes in a risk-controlled manner.
Complex Data From R&D, Sales, Marketing, Patients, and More
Creating Order From Data Chaos
As a pharmaceutical company, you have to manage an increasing amount of both structured and unstructured data, such as clinical trials data, patient medical records, medical claims, sales and marketing data, supply chain data, machinery and sensor data, legal documents, and more. But how do you keep it all centralized and accessible while maintaining protocol compliance?
Dataiku helps you make sense of it all and ensures you can seamlessly connect to every source. Don't let the multiplicity of sources be a blocker, but rather a competitive advantage to boost drug development and sales efforts.
No Time to Spare in the Race to Go to Market
Go From Weeks to Hours With Ready-to-Use Assets
Out with the legacy technologies and manual processes, in with a future-proof AI platform that was built to make AI commonplace. Designed to help you reach business value faster, Dataiku offers pre-packaged use cases (i.e., drug repurposing, omnichannel marketing), many reusable features, and powerful automation that will change the game for your business.
Enabling Everyone, From Research Scientists to Market Analysts to Medical Officers
Getting More People and Roles Involved in AI Projects
When it comes to improving patient outcomes with data and AI, everyone has a role to play. R&D teams can leverage pattern recognition and deep learning to better understand diseases and explore new treatments; data scientists can clean and prepare both structured clinical data and unstructured health data for self-service analytics quicker and more easily; business teams can gather valuable insights from data with little to no coding experience; marketing teams can build powerful recommendation engines to find the best channels to bring drugs to patients; and many more.
The good news is that data and analytics projects are accessible to everyone in Dataiku. Whether you're technical and working in code or on the business side and low- or no-code, you'll be able to find common ground for project collaboration and knowledge sharing in Dataiku's centralized platform.
Accelerate Your Time-to-Value
Unlock New Levels of Efficiency and Drive Impact
AI and data transformation promise massive efficiency gains and operational benefits. With a unified platform, you have the potential to transform your business with intelligent automation initiatives that enable rapid insights from valuable data assets. Dataiku enables that transformation with speed and at scale.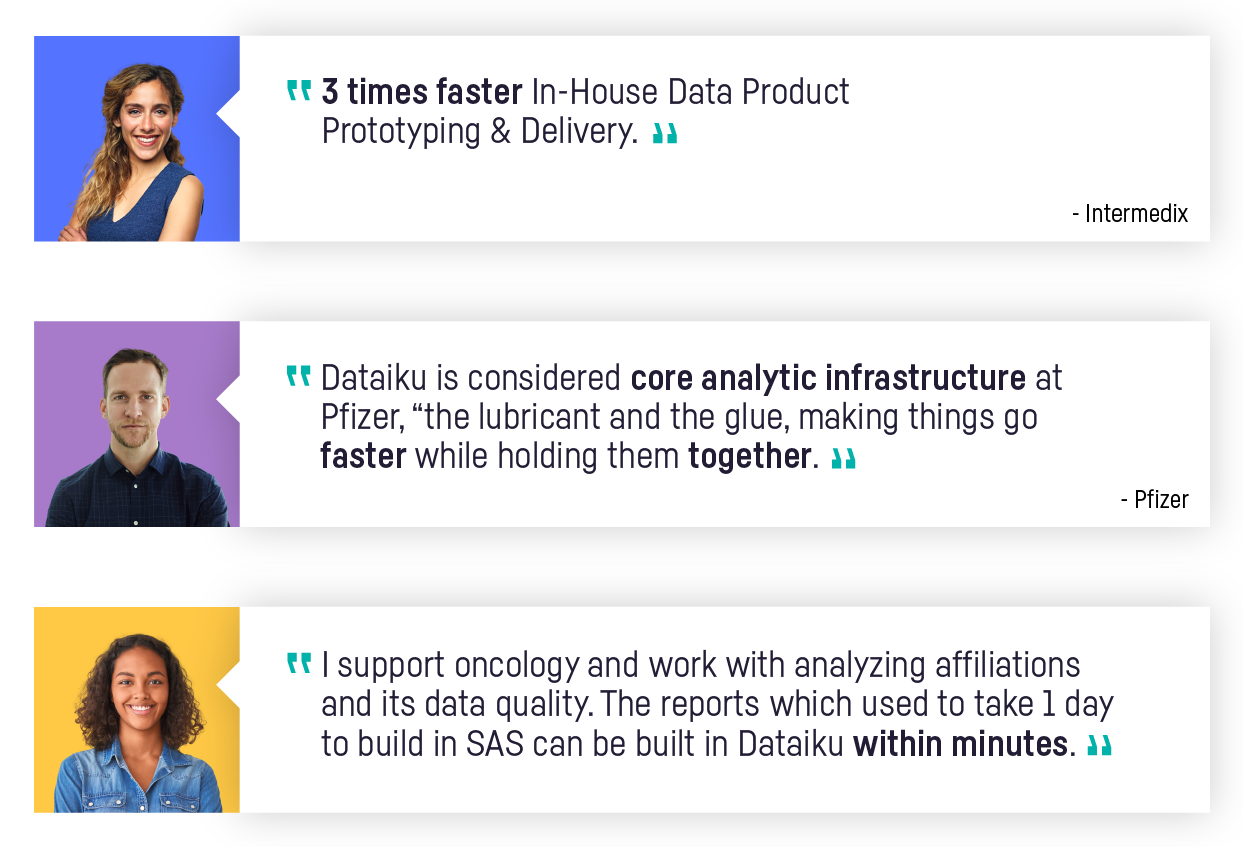 Ensure Compliance With Regulatory Requirements (Including GxP!)
Enterprise-Grade Data Privacy — Because We Care About It as Much as Your Patients Do
In addition to baseline data governance and privacy efforts, we know you have to navigate the complex-to-interpret and difficult-to-put-into-practice GxP guidelines and regulations. We work with multiple global pharmaceutical clients to help them meet and maintain GxP compliance while using Dataiku in production with medical data.
On top of that, Dataiku provides custom policy capabilities to document personal data, configure project-level forbidden actions, create audit trails, and generate trusted reports in relation to GDPR and other privacy regulations — all designed to help you easily maintain data security, integrity, and traceability amidst a highly-regulated space. Dataiku's full range of explainability and fairness features support eased alignment with your Responsible AI objectives.
Quick, High-Value Wins and Long-Term Transformation
Dataiku: For Today and  Tomorrow
Pharmaceutical companies are under pressure to maximize sales impact while speeding new drug and medical device time-to-innovation and market. Doing so demands teams to leverage the right infrastructure capable of addressing this mix of short-term needs and forward-looking ones. Dataiku is uniquely positioned to do so because it is:
Regardless of their technical skills, marketing, sales, supply, R&D, and other business teams can tackle their data projects easier and faster, significantly accelerating time-to-value.
Numerous integration options with external platforms and technologies provide a one-stop-shop to all data — including the most specialized — for all projects.
Dataiku includes the infrastructure to govern AI projects at scale, including production lifecycle management (monitoring, retraining, and testing).
Strong explainability, auditability, and fairness features will help you ensure legal and regulatory compliance more securely, mitigating risks in the long term.
Still Aren't Sure? These Global Pharma Companies Trust Dataiku
Begin the Transformation
Many pharmaceutical companies use Dataiku across their teams to propel their data science and AI initiatives forward, including six of the global Top 10. Dataiku is praised by industry experts for its ease of use and delivery capabilities. At the end of the day, success in pharmaceuticals is all about how successfully a company improves patient outcomes and we want to be a building block to that success.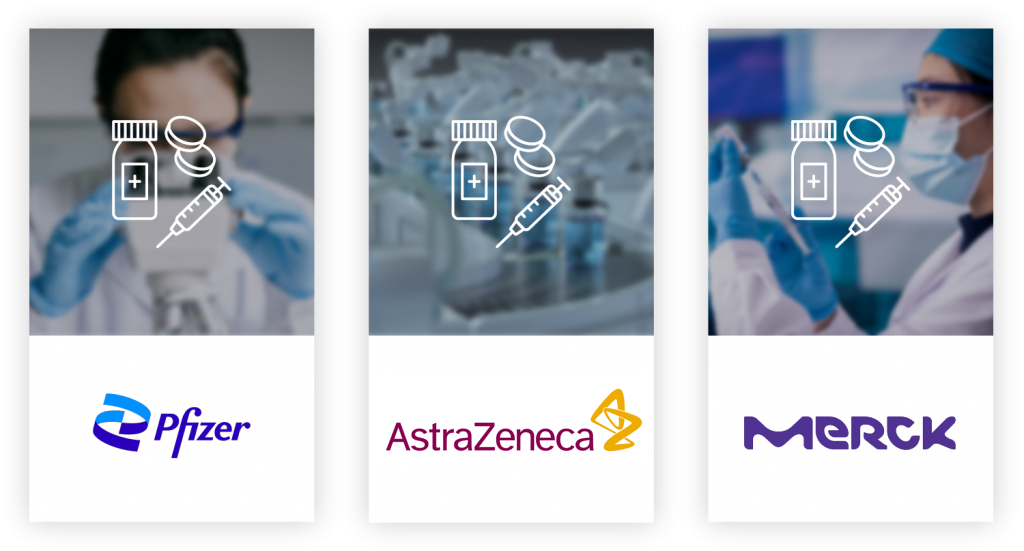 Get Started
Pharma Industry Deep Dive
Discover Our Ready-to-Use Industry Solutions
Learn More
How Pfizer Successfully Leveraged Analytics & AI to Scale
Watch a Customer Story
Watch Now